Artists - Per Schelander (Pain of Salvation)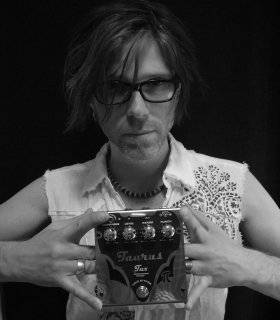 Per Schelander really hooks the listener into this album with his exciting yet unobtrusive bass lines. In some songs, Per shows he can hang back and just fatten up the song with some impressive low-end bass, and he also shows he can carry a track too, like in the song "You Are". Schelander can also make you stand up and take notice with his unison tap solo on "Uncontrolled" ( quote from review by Metalexpressradio.com).
Music in all shapes and forms has been Per Schelanders style since he picked up the bassguitar when he was fifteen. Around 1988 Per discovered Billy Sheehan and thought that his playing was the coolest thing he had ever heard. He started studying music seriously at the age of 18, starting off with two years in Sweden before he headed for Los Angeles to attend the Musicians Institute. Since then Per have played and recorded with a lot of bands and artist and here's a few of them: House of Shakira, Royal Hunt, Pain of Salvation, Spyke, The Furillos, Coste Apetrea, Ingemar Olsson, Stefan Jämtbäck, Ingmar Johansson, Charlotte Perelli, Bromstens Kapell, Jade Ell, Mercury Fang, Daniel Flores - you can check out my myspace site for more info Per Schelander.
Pain of Salvation has joined "Progressive Nation 2009" together with Dream Theater, Zappa plays Zappa and Beardfish.
Per Schelander uses Taurus Silver Line effect pedal TUX.