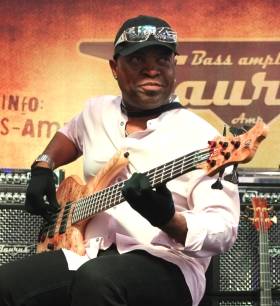 Etienne Mbappe comes from Cameroon, but he's living in Paris, the Jazz capital of Europe. He is just as hard as endeavour as attempting to get a one-shot global view of a multifaceted diamond. And to those who are not yet quite familiar with him, "ATN" so his friends call him, is nothing but a famous and exceptionally talented bass player. With his tremendous creativity, an amazing technique, along with an incredible sense of rhythm he created a full musical genre of his own transcending the boundaries between Jazz, Fusion/Funk, Rock and African sounds. "ATN" is undoubtedly one of the only musicians playing with black silk gloves on! As an astonishing musician, guitar and bass player, and a fabulous composer, singer and songwriter, he has revealed a most complete and varied musical capacity and fully justified the trust bestowed upon him by most great names of the musical scene as well as his public widely spread around the planet. He has worked together with Ray Charles, Salif Keita, Manu Dibango, Steps Ahead, Ray Lema, Mayra Andrare. He played in bands: Ultramarine, Zawinul Syndicate and in 2010 he joined John McLaughlin's quartet "4th Dimension".
Etienne has also released two solo albums: "Misiya" and "Su la Take".
Etienne uses Taurus Silver Line effect pedals - Abigar, Tux, Vechoor, Zebu and the preamp T-Di.
Products used by this artist: