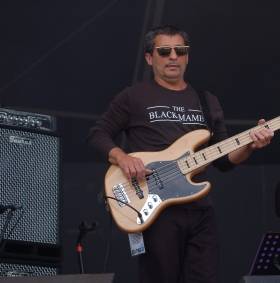 Ciro Cruz, professional bass player since 1982. He has played with major Brazilian artists including Ed Motta, Djavan, Gabriel O Pensador, Banda Black Rio, Fagner, etc. He participated in recordings of approximately 200 albums of various artists in Brazil and worldwide.
Ciro Cruz has performed live with various international artists like: Incognito (UK),Omar (UK), Howard Levy (USA) (Grammy Winner), Gabriel o Pensador (BR), Ed Motta(BR), in cities like New york (Central Park), Shanghai, Baku (Azerbajan), Rio de Janeiro, Luanda, Chicago, Paris, Buenos Ayres, Montevideo etc ...
Today it is part of the project THE BLACK MAMBA who has just released the album by "FAROL MUSICA" and did the presentation concert at the Festival
Rock in Rio (Lisbon) 2012.
Ciro uses TH-Cross and speaker cabinets TN-410 and TN-115
Products used by this artist: