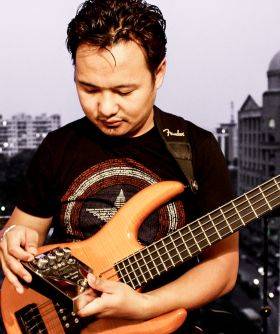 Self- taught bass player, started playing since I was 9 years old. Bass was the only instrument i knew and today that's the only instrument i play. I have been a session player for years, for many well known Indian artist both from bollywood and from the rock/jazz/blues circles until I joined Agnee. Today, Agnee is the only Indian rock band I play for. Whenever I get time I'm playing bass for the jazz trio 'the Vinay Kaushal Collectives', which Vinay Kaushal and I started as a side- project a year ago.
I'm very particular about my sound and most of the time find myself altering my settings on the pedal board/guitar/amp in order to suite with the sound of the band. When I'm touring with Agnee, I'm looking for a really low heavy yet not muffled kind of a sound and when Im performing with the Vinay kaushal collective, i'm looking for a mid heavy and a clear tone. When I first heard the Taurus I was like...OMG!!! That's what i have been looking for.

Among uses TDI bass preamp DI.

"With the Taurus T-DI and amps on my arsenal, I rarely have to tweak my setting, i rarely have to change my bass string for slaps and pops and I rarely have to worry about how am I sounding on the FOH".