Perfect control over the sound
---
Taurus Qube - 450 bass head is the smallest and the lightest bass amplifier in Taurus' amps line. The compact size of the head is attained by applying the newest, most advanced technology. The SMPS (Switching Mode Power Supply) power supply and Class D power amplifier in conjuction with classic analog preamp provide great efficency, power, dynamics and sound selectivity.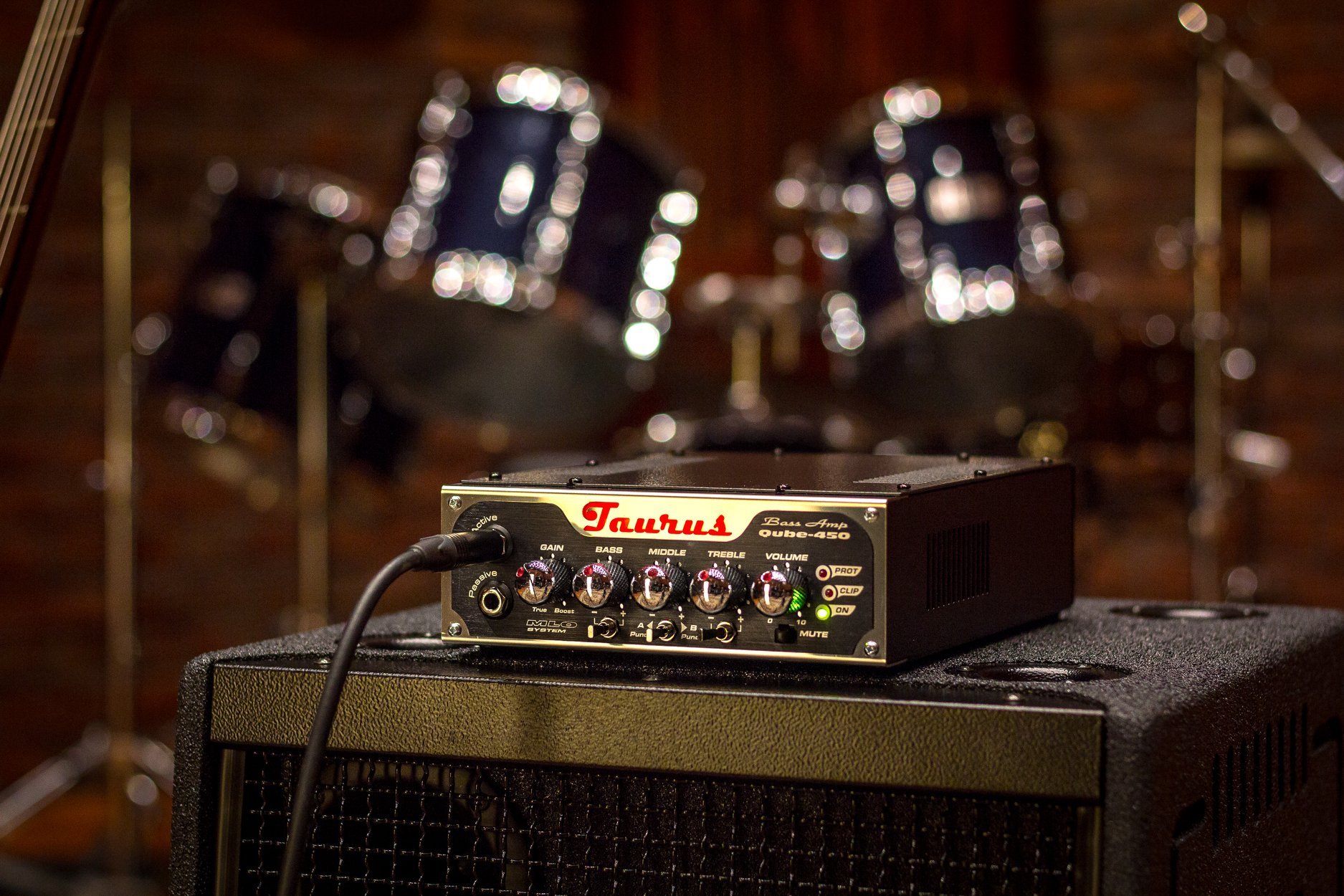 ---
MLO it is unique equalizer for bass guitar designed by Taurus Amp.
The MLO (Mid-Level Optimization) system is Taurus' proprietary system, allowing for easy, intuitive and extremely comfortable optimization of the overall sound of the bass guitar.
The MLO System provides all-new possibilities. It ensures the most accurate proportion of medium frequencies in accordance with your manual settings of bass and trebles. This very intuitive and logical system supports a musician's choice for the most desirable sound.
In addition, the MLO equalizer ensures virtually no change in overall volume while changing the bass frequencies. Unlike most amps, when adjusting bass frequency, the musician notices a change in the sound not the volume.
To sum up, the equalisation in the MLO keeps you within the correct range, at the same time allowing you to use the maximum potential of equalization of the bass sound. This is a big advantage compared to a classic solution, where you need to watch certain frequencies carefully to avoid overloading the speakers.
---
450W RMS / 4ohm , 300W RMS / 8ohm

analog preamp / PA class-D / SMPS
BASS and TREBLE equalizer

with "MLO system" (Middle-range Level Optimization)

to reduce or boost low frequency [DBS-cut/OFF/DBS-boost]

to reduce or boost high frequency [CUT/OFF/PRESENCE]

button - increases sonic expression. Two different sound modes available Punch-1 and Punch-2
40Hz +/-10dB @400Hz -/+4dB
short circuit, thermal overload, power overload
Forced cooling system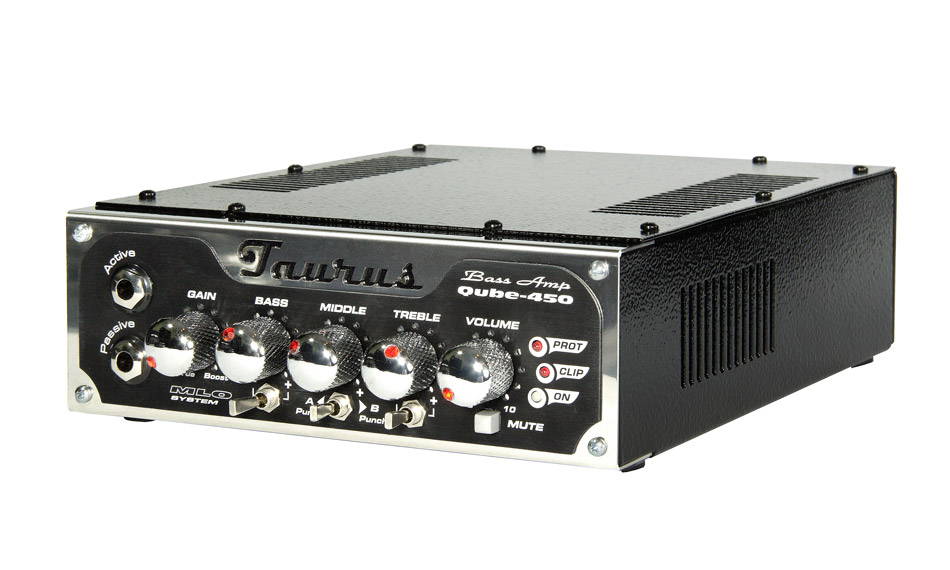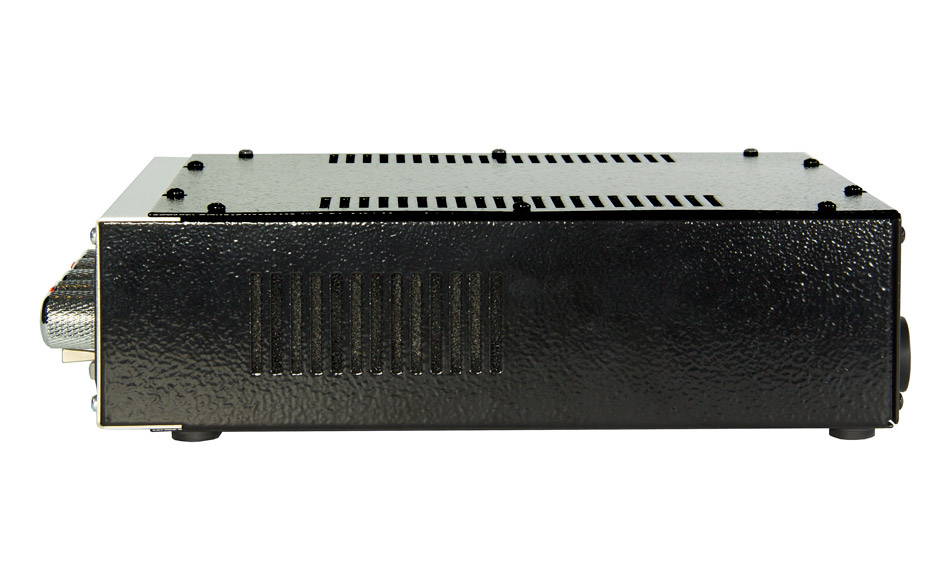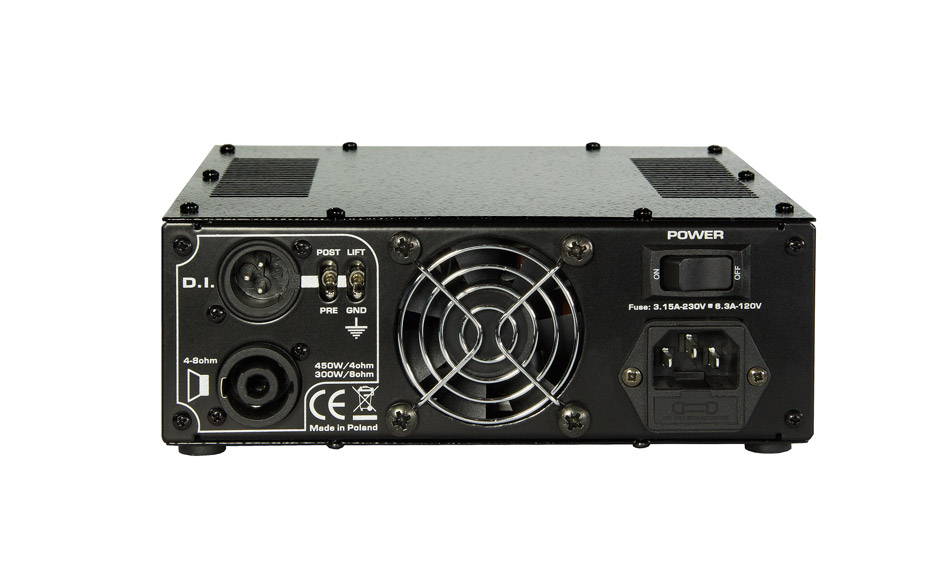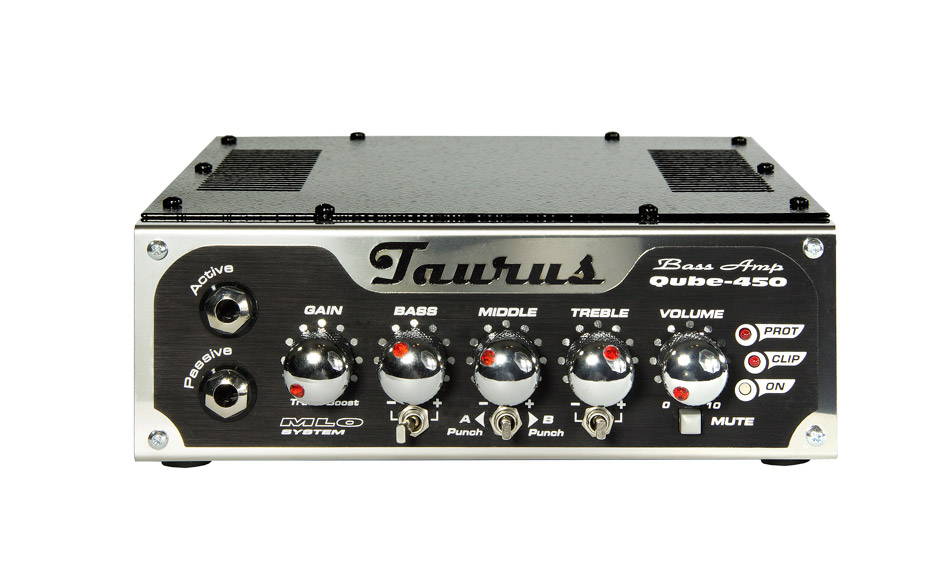 Taurus Artists: Felton Crews
Taurus Artists: Oscar Morgado
Gold reward for Qube-450! / Review by guitar portal E-GITARA.NET.PL 26.08.2010.
After the time spent in the company of new Taurus amplifier my opinion about skill and professionalism of Sopot based engineers has been strengthen again. Box Electronics is not chasing the... read more »
Even on flat EQ setting the Taurus Qube –450 produces great sound. It showcases its quality. No need to nervously crank the knobs to find this "thing". The " thing " is already there.... read more »
Taurus Qube-450 ultralight bass amp / TOP BASS 10/2011
The smallest bass amp among Taurus's products but still not the weakest one . I have fallen in love with this baby at once, its flexibilities just overgrew my expectations. The Qube-450... read more »
Taurus Qube-450 ultralight bass amp / Gitarre & Bass 3/2012
As we expected, the handy Qube is a powerful amplifier, which in a sovereign and effective way keeps the producer's promise. Even at the neutral setting, the bass sound is juicy and catchy in... read more »
Qube-450 / TN210 / Guitarrista 2012 / 165
This is the smallest among the bass amplifiers offered by Taurus Amplification. The amplifier drew our attention immediately, but only after testing it with the TN-210 cabinet did we find its full... read more »
Qube-450, TS112N / Bass Quarterly 5/2012 Sept/Okt
"less means more" As it comes to mini amps, such manufacturers as TecAmp, Aquilar and Glockenklang have raised the bar high Now Taurus, a Polish company, has offered its product. ...Polish... read more »
Bass Amp. QUBE-450 / Amazona 01/2015
--------------------------- +Lightness +Saturated output power +Design and handy controls +Sound and EQ concept +All-round skills --------------------------- -Fan noise - No mounting... read more »